OUR TEAM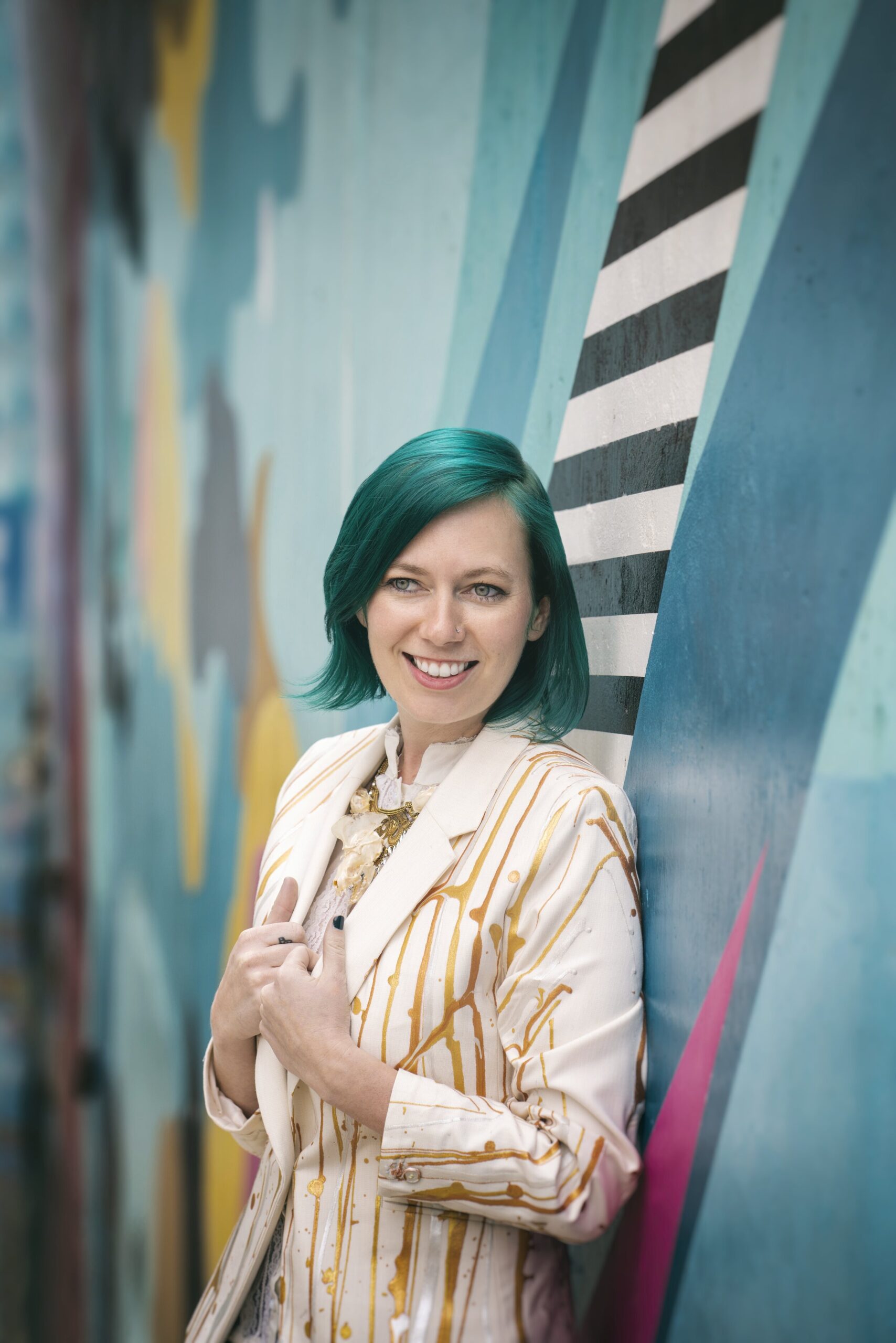 Kelly Carnes
Executive Director
Kelly spent the majority of her early career at the Smithsonian Institution, serving first at the Smithsonian Castle, then the National Museum of Natural History where she spent a decade elbow-deep in the coolest science on Earth, before transitioning to head Communications at the Smithsonian's Contemporary Art arm, the Hirshhorn Museum and Sculpture Garden. In her time at the Smithsonian, she had the opportunity to film all over the Institution's 19 facilities, research centers and the national zoo for the Smithsonian Channel, appeared on camera herself as the host of Smithsonian SmartNews, posed memorably as the living Hope Diamond Barbie, FedExed the Nation's T. Rex from Montana to Washington, and ushered in the 40th anniversary of the Hirshhorn with 40 of the world's most renowned contemporary artists from the top of One World Trade Center.
That experience in the visual arts built a foundation for a transition to the John F. Kennedy Center for the Performing Arts. As Director of Public Relations for all non-classical programming she repped hip hop, comedy, jazz, international programming, theater, dance, ballet, the expansion project, and the JFK Centennial. Also responsible for the Center's signature annual events, the Spring Gala, Mark Twain Prize for American Humor, and Kennedy Center Honors, she managed red carpets walked by cultural luminaries like Bill Murray, Al Pacino, Emma Stone, Jimmy Kimmel, Jeff Goldblum, Aziz Ansari, Sigourney Weaver, Bill Hader, Jane Curtin, Paul Shaffer, Mavis Staples and James Taylor.  
The only adventure that scared her more than whether Miley Cyrus was going to stick to script…was to strike out on her own and open her own shop, bringing her wealth of diverse experience at two of America's biggest brand names to the people and places she feels passionate about. Savvy to both her strengths as well as her weaknesses, she's constantly exercising her vast network to connect with other talented professionals who can complement her creative communications services. So, if you want a side of marketing to go with that, graphics, photography or video, we've got you covered. Carnes&Co. will always keep you in good company.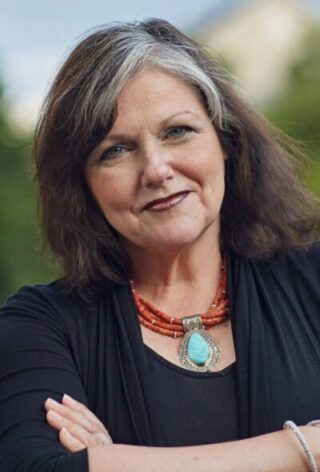 Elizabeth (Betsy) Allen
Creative Writing
Elizabeth (Betsy) Allen is a native of Defiance, Ohio, and holds a BA in journalism from The Ohio State University, and an MA in English and MFA in fiction writing from George Mason University. Over the years, she has worked as a corporate communications specialist, public relations manager, creative writing workshop leader, and freelance writer and editor. Allen currently teaches Advanced Composition at George Mason. Her short stories have been published in several dark fiction anthologies, and she also is the co-author (with Ben Small) of The End of Gath, a Steampunk graphic novel trilogy. Allen lives in Alexandria with her husband and a noisy Corgi. In her spare time, she indulges a crossword puzzle obsession and frets about her children and grandson. She believes in the power of stories—to transport us, to show us what has been and what could be, to help us recognize our shared humanity.

Fannie Allen
Etiquette
Fannie Allen is an entrepreneur, retired federal manager, retired Army Reserve Officer and community service volunteer. She is a graduate of the Protocol School of Washington, a certified Etiquette and International Protocol Consultant, and Director of The Allen Protocol and Leadership Institute with offices in Virginia and Georgia.
Ms. Allen has been a small business owner for over twenty years, providing consulting services as an etiquette and protocol consultant. She also has over twenty-five years of public service experience including assignments in Europe, Asia, Latin America, and Africa.
Her seminars focus on business etiquette, protocol and dining to corporate and government personnel, colleges, universities, and non-profit organizations. Ms. Allen has extensive experience preparing college and graduate students for careers in International Affairs by providing etiquette, protocol, and communication training. She also specializes in professional sessions on relationship-building. Her organization has successfully convened leadership and social grace camps for young people in various locales in the United States.
She is a member of the American Association of University Women, a Life Member of the Coalition of 100 Black Women, and a member of numerous other community-based groups.

Mike Baker
Acting, Public Speaking, Voiceovers
Michael J. Baker, Jr. is an award-winning actor and vocalist. He was a featured soloist at The Kennedy Center for the Performing Arts, The White House, Wolf Trap for the Performing Arts, and Lisner Auditorium. He was honored by "DC Metro Theatre Arts" as one of the area's Best Directors in 2017 for his work on A Christmas Carol and as one of area's Best Musical Actors for his portrayal of "Fagin" in Oliver. He also won The Little Theater of Alexandria's Best Director and Best Musical Performer in 2018. Baker is also a seven-time Emmy Award-winning TV host, reporter, producer and sixteen-time Emmy nominee, and is an accomplished videographer with five Videographer Awards. His other TV work has garnered five National Telly Awards and a Marcom Creative Award. Baker is currently the President of National Arts Television, with  productions appearing on BRAVO Cable Network, NBC, PAX-TV, Comcast Sport Network, Mid-Atlantic Sports Network, and in public television syndication. Baker is currently an adjunct in the NOVA English Department, teaching English and poetry. He teaches public speaking seminars to the winners/inmates of the annual Heard writing contest.
Solveig Eggerz
Creative Writing 
A native of Iceland, Solveig Eggerz, has authored two novels, Seal Woman and Sigga of Reykjavik. She holds a PhD in comparative literature from Catholic University. Solveig was a reporter for the Alexandria Gazette Packet and has worked as a journalist, a professor of writing and research, and as a teacher at the Writer's Center in Bethesda, Maryland. Her writing has appeared in such places as The Northern Virginia Review, Delmarva Review, and Palo Alto Review. Through creating and teaching her writing classes for Heard, Solveig has learned that everyone has a story to tell or write..

Alexandra Fleming
Creative Writing 
Alexandra Fleming has been a print and TV journalist for 25+ years. Her clients are People magazine, the Washington Post, and Swedish Broadcasting. She has a BA in journalism/news-editorial from San Diego State University. In 2012 she co-wrote "Full of Heart," Iraq War vet JR Martinez's memoir, which became a NYT best-seller.
She leads a Heard class called "Journalist for a Day," which teaches students that the skills journalists practice in their trade — curiosity, precision, and objectivity — are powerful assets that can be applied by everybody in everyday life.  
Her favorite thing about being a part of Heard is having the privilege to share ideas with people who are interesting, inquisitive, expressive, and open to considering divergent viewpoints — and to see in real life how important it is for everyone to be heard.
In her spare time, Alexandra fosters kittens and teaches Life Skills ESL to immigrants and refugees. Read more about Alexa (and hire her!) here.

Wendi Kaplan
Poetry 
Wendi R. Kaplan is a poet and was the City of Alexandria Poet Laureate from 2016-2019 where she conducted poetry classes, readings and events to create connection and build bridges among different communities in Alexandria. She understands that in good times and hard times poetry brings joy, support, and awareness. Wendi facilitates the writing of poetry and believes that poetry can give people a voice, even when they feel they have none. Wendi has a master's degree in social work as well as a certification in poetry therapy. Wendi says, "Being a part of Heard allows me to work with people who know the power of the creative process as well as introduce poetry to people who need to be heard! It has been such an honor to help people turn their troubles, difficulties, hopes and dreams into poems."

Sharmila Karamchandani
Visual Arts 
Sharmila Karamchandani is a freelance graphic designer, art educator, and an entrepreneur coach has a passion for design and working in arts education and community non-profits. She is a multidisciplinary artist and works in mediums such as painting, jewelry design, photography, calligraphy, henna painting, mixed media collages, and fiber arts. Sharmila acquired her MFA in Graphic Design from Savannah College of Art and Design (SCAD) and has been teaching graphic design for more than a decade in several local colleges and universities. Recently, what gives her the most joy is to facilitate weekly art workshops through Heard and to work with marginalized groups.
Sharmila displays and sells her creative work through Khush Designs.

Keely Kirk
Improvisation 
Keely Kirk teaches improvisation as a life skill for Heard. She is an improvisation performer and the founder of Playing Outside the Lines, where she provides team building workshops for Fortune 500 companies, government agencies, law firms, accounting firms, nonprofit organizations, and schools. She trained and performed with Mental Floss and Laughing Gas Comedy Improv of Miami, Florida, as well iO (formerly Improv Olympics) and Second City of Chicago. Since 2010, Keely has also taught, developed and marketed an improv curriculum at The Little Theatre of Alexandria.

Alison McHugh
Visual Arts 
Alison McHugh is an art therapist, using her talents as an art teacher for the HEARD team. She has taught for almost 20 years in private and public special education as an art therapist, working with students on the autism spectrum or with emotional disabilities. She currently teaches at Cedar Lane High School in Fairfax County Public Schools.  She received her master's degree in art therapy from the George Washington University. She loves being a part of Heard because she can share her love of scrapbooking and paper-crafting with women who most need the artistic outlet. When she's not scrapbooking, she's cheering on her World Champion Washington Capitals or planning her next Disney trip for her family—her husband of 15 years and her 12-year-old and 9-year-old boys. 

Phallon Perry 
Creative Writing 
Since the age of nine, Phallon has found writing to be her refuge. After attending Indiana University and Northwestern University where she honed in on her craft, Phallon began to write stories for children, young adults, and adults young at heart. She is the author of three books: Dream to be from A to Zzz, Austin's Pansies, and her most recent book, Like a Butterfly was co-authored with her five year old daughter, Autumn. Today, you can find Phallon traveling back and forth between her hometown of Baltimore, MD and her new home in Alexandria, VA. You can also learn more about Phallon here.

Nina Sichel
Creative Writing 
Nina Sichel has published poetry, memoir and creative nonfiction, and co-edited two collections about cross-cultural international childhoods, Unrooted Childhoods and Writing Out of Limbo.  She leads local guided writing programs and memoir workshops. She is been a part of Heard since its inception, and is thrilled to see the program stretch and grow and reach so many emerging writers and artists.

Bharati Soman
Singing
Bharati Soman has been an active performer and voice teacher for almost 20 years. Past credits include leading roles in opera companies throughout Northern California, including Cinnabar Theater, Pocket Opera, Livermore Valley Opera and Sacramento Opera.  Currently, she can be seen performing with Sopranessence, a vocal ensemble dedicated to "rebooting classical music," for which she also serves as Co-Artistic Director.
As a voice teacher, Bharati has worked with students ranging in age and ability, from beginners to professionals, including singer/songwriters. Although her own background is steeped in classical music, Bharati teaches a variety of styles from choral and congregational music to Indie Rock and R&B. Bharati's greatest joy is watching her students' self-confidence blossom as they learn to access their authentic voice.  She holds a Master of Music and Performer Diploma from Indiana University, Bloomington and a Bachelor of Music from James Madison University.

Christopher "C." Thomas
Spoken Word Poetry
Christopher "C." Thomas began their career as a serial open mic attendee in 2004. They are a Darkness to Light's Authorized Stewards of Children® Facilitator and a 2019 Finalist for Poet Laureate of Alexandria. They were named a Pioneer of Poetry by NUSPA (National Underground Spoken Word Poetry Awards) in 2015. C. Thomas has performed at Studio 2001Art Gallery, Busboys and Poets, Angelina College, Howard University, Prince George's Community College, Thomas Jefferson University, Old Dominion University, Eleanor Roosevelt High School, Glen Forest Elementary School, Carlos Rosario International Charter School, and Journey of Faith United Methodist Church. Their work has appeared in Swerv Magazine, Reflections: Prince Georges Community College Fine Arts Magazine, Stoked Words: An Anthology of Queer Poetry from The Capturing Fire Slam and Summit, and Imagoes: A Queer Anthology along with several of their own publications: Moodz' Ring, Voices Carry, Coloring Outside The Lines, and Bernard's Bedroom. C. Thomas is also involved in Child Abuse Prevention Awareness, Black Lives Matter, Mental Health, SGL (Same Gender Loving) and the LGBTQ+ community. They joined Heard in full excitement because they believe everyone deserves to have a voice.

Michael Collins
Collins Consulting Group/Board Chair
Mike Collins grew up in Brownsville, Pennsylvania. He retired from the United States Navy as a civilian program manager, and is currently a consultant with them, with expertise in research, development, and acquisition programs. Mike has been an active volunteer throughout his life. He coached youth sports for many years in Manassas, Virginia, and held several leadership positions with Manassas Presbyterian Church. He attended Virginia Tech on a basketball scholarship and graduated with a Bachelor of Science degree in civil engineering. He earned a master's degree in engineering management from Old Dominion University. As the Heard board chair, Mike is excited about working with the new board members who have so much talent and energy and to see what new ways the wonderful artists and clients will continue to express themselves. In his free time Mike likes to take long and short tours, travel with his wife (and Heard's executive director), and play with their five grandchildren.
Melanie Brumfield
Workforce & Life Development Coordinator/Board Member
Melanie Brumfield was born and raised in Rochester, New York. As the daughter of a pastor, singing, dancing and sometimes acting was a regular part of her life. She attended the School of The Arts high school, where she took part in several musicals and plays. Melanie double majored in Political Science and African American Studies at the University at Albany in Albany, New York, where she also received a Master of Arts in African American history. She recently completed the Post Graduate certificate program at the Chicago School of Professional Psychology for Applied Behavior Analysis. She has over 10 years of supervisory experience in environments servicing vulnerable communities.
Melanie is an avid reader and foodie and is the mother of a beautiful daughter. Human services and helping others have always been a passion of hers. Through advocacy and/or direct services Melanie understands the role of empowering and supporting people from vulnerable populations and the difference it makes.

Jane Hess Collins
Founder and Board Secretary
Jane is the founder  and previously served as the first executive director of Heard. She is a communications consultant and coach with a master's degree in public relations and corporate communications from Georgetown University, and a retired colonel, United States Air Force. Jane founded the nonprofit to offer a platform for both artists and the area's adults in need to be heard. Artists are heard by receiving a fee for each class they teach – a feature that Jane implemented after watching her mother, an artist, continually get asked to lower the price of her work. Heard's clients are also heard through choosing to share their creative work during class or on Heard's website. In her spare time Jane and her husband love to travel and spend time with their families, where Jane manages Heard through her constant companion, her iPhone.

Julie Cupp
Chief Operating Officer and Executive Assistant for Marie Force/Treasurer
Julie Cupp was born and raised in Alexandria, Virginia. Julie plans reader events for Marie Force/HTJB, Inc., oversees Ms. Force's self-publishing ventures and manages the E-book Formatting Fairies. Julie has over 20 years of meeting planning experience and is a Certified Meeting Professional where she worked with executive committees and boards of directors to align education and event goals with the organizational budget, membership support and industry enrichment. She attended Virginia Tech and received a bachelor's degree in business administration from the University of Phoenix. As a Heard board member, Julie looks forward to providing an artistic outlet for under-served populations and sharing the art of Heard's programs participants with the community to foster a better understanding of the populations we support. Her passions include live music and theater, yoga, books, local sports teams, travel, art history and finding a piece of art that reminds her of how beautiful this world can be.

Dallice Joyner
Cultural Competence, Racial and Health Equity Trainer for Fairfax County Department of Health
Dallice Joyner grew up in Wilmington, North Carolina. She has over 20 years of supervisory and leadership experience with expertise in administration, partnership building, community health, program development and implementation. Formerly she was the Deputy Director at Friends of Guest House where she ensured high quality program delivery and supporting women re-entering the community after incarceration and connecting with their children, families, and other support systems. Dallice earned a bachelor's degree in School and Community Health from East Carolina University, Greenville, North Carolina, and holds a master's degree in education with an emphasis on community health from the University of North Carolina. As a Heard board member, Dallice is excited to support and work with its amazing creatives and to help expose them more to the community. She spends her spare time with her family and close friends, and is interested in social justice and racial equity disparities.

Patricia Washington
President & CEO, Visit Alexandria
/Board Member
Patricia is President & CEO of Visit Alexandria where she is responsible for Visit Alexandria's vision, culture, and data-driven content-first marketing strategy. Under her leadership, Visit Alexandria launched three brand campaigns; developed a robust national media relations effort; expanded video, photo, itinerary and blog content; and increased digital and social media marketing. Patricia led Visit Alexandria's expanded marketing to diverse audiences with a new "Drop In" campaign targeting Black travelers and featuring iconic and new travel experiences, a Spanish-language campaign, new content supporting AAPI-owned businesses, Latino-and Latina-owned businesses, Indigenous history and experiences and more. All of this has led to increased revenues and national accolades including the city being named as Travel + Leisure's Best Cities in the U.S. 2022 and one of Condé Nast Traveler's Top 5 Best Small Cities in the U.S. 2022 . Before coming to Alexandria in 2012, Patricia lived in Philadelphia where she held previous positions in cultural tourism, performing arts, and philanthropy. Patricia is a passionate arts advocate. She serves on the board of the Alexandria Arts Alliance and loves opportunities to attend and participate in music, art, and theater. She is also an avid practitioner of yoga. In addition to the Arts Alliance board, Patricia serves on the U.S. Travel Association's Destination Advisory Council, and the Northern Virginia Tourism Partnership. Past boards include Alexandria Historic Resources Commission and the Torpedo Factory Art Center Board. Patricia has a JD and BFA from Howard University.

Joanne Marie Clark
Volunteer Development Director
Joanne Clark recently retired from a 33 year career in international relations, designing study programs for mid-level professionals invited to this country by the U.S. Department of State. An important recent topic of the International Visitor Leadership Program (IVLP) has been the impact of the arts on marginalized communities, whether the incarcerated, disadvantaged youth, and victims of abuse and trauma. During her tenure at Meridian International Center, Ms. Clark was responsible for the design and implementation for a number of these projects. She is excited to join the Heard team as a research volunteer with the goal of uncovering information and statistical data relevant to the organization's community outreach and engagement initiatives.
Ms. Clark grew up in Connecticut, earned a B.A. in French from Manhattanville College in Westchester County, New York, and a Masters in International Transactions from George Mason University in Virginia. She is the owner of Late Bloomers Designs, specializing in original jewelry and photographic products.