IMPACT
Just look at the growing impact we have in the Alexandria, Arlington, and Falls Church communities:
2017: 28 classes, 196 non-unique adults reached (of course all adults are unique. Some of the adults we served took more than one class. You know what we mean…).
2018: 107 classes, 723 non-unique adults and youth reached (quite a jump, don't you agree? And we added kids at the Northern Virginia Juvenile Detention Center)!
2019: 176 classes, 1,457 non-unique adults and youth reached (almost doubled our participation. We're happy)!
2020: 207 classes, 1,617 non-unique adults and youth reached (and during the COVID-19 pandemic when all of our classes went virtual in the spring. Hey, we're impressed)!
2021: 216 classes, 1,834 non-unique adults and youth reached (so many people need creative expression amid the isolation and confusion surrounding COVID).
May and June 2022 – Creative Writing with ALIVE! House
I'm not a huge baseball fan (it bores the socks of me, quite honestly) but I love me a home run! And that's what we got with the Heard evaluation for our creative writing series in May and June with the clients of ALIVE! House, a transitional housing program for women and families in emergency and transitional situations. A perfect 5.0 score, with meaningful, positive comments! Our amazing writing teachers, Betsy Allen and Nina Sichel, brought their A game as they always do, and offered our clients this creative experience. Here's what our clients said:
"I thoroughly enjoyed the class and the creativity that was presented. Felt that I could dive in more with my writing."
"I felt very comfortable expressing my creativity in my class, I enjoyed the class, I feel heard, I feel more self aware, express my feelings. I felt I learned how to write words of mind [mine], experience childhood great memories with this class."
January 2022 – Spoken Word at Friends of Guest House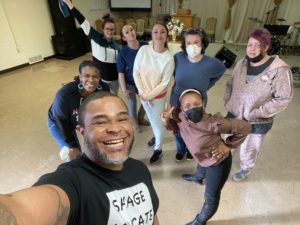 Another series completed, another amazing evaluation! Our C. Thomas received a 4.75/5 after his four-part spoken word series at Friends of Guest House. The first three weeks were done virtually – COVID precautions, you know. He decided to surprise the residents by showing up in person on the last day, and what a surprise it was! Yes, he was asked for an autograph! Please visit our Poetry Gallery page to read and hear some of their honest and revealing creations. We've included video from their last day as they performed their poetry for the rest of the group, and we couldn't resist adding this group selfie. Here's what the Friends of Guest House residents thought of C. and his class:
"This class gave me confidence and made [me] open up."
"With the subjects suggested to write about I found words about myself I didn't know I felt. I enjoyed this class."
"I loved spoken word. It really has inspired [me] to strive to be a published author in more ways thatn one! And C. Thomas is AMAZING!"
August – October 2021 – Improvisation with the Arlington County Detention Facility Community Readiness Unit (CRU) and General Population (GP)
The CRU focuses on individualized reentry planning, work readiness and programming for substance abuse, mental health and life skills. So why not improvisation, we asked? Actually, Keely from our team has been leading improv classes at the detention facility off and on for a few years now, but this time was different. After many months of no classes at all (thanks, COVID), we began a ten week improv series with about 14 CRU and 3 GP participants, led on separate days. It was tough having to do it virtually, but all of us survived and thrived. Just look at the comments we received from the participants (and may we brag that Keely received a perfect 5/5 evaluation from the GP?):
"If there is an opportunity being incarcerated it is to improve our creative modes of expression and interaction. Great course leader – her energy and passion are a great influence. Thank you!"
"Teacher was engaging and open to input. She taught techniques to assist in writing and skit development. Thanks for a great time."
"…[Reminded] me of important life skills that include 'how to accept new ideas' 'active listening' positive communication and open mindedness. These sessions were offered in a creative, fun, and stimulating way. Thank you…thank you! Helped prepare me to return to my life more healed."
"Thank you so much for you[r] helping me get out of my comfort zone. I use the techniques in my conversations in here and on the phone with my family. Thank you mucho. 😊"
"The improv class has helped me not to be so dismissive of others' thoughts and also more respectful to others while conversing. To listen is to be silent. I really enjoy most of the games."
"Really enjoyed this class. I always enjoyed the show 'Whose Line is it Anyway.' The class helped me get to know the group as I was new. Thanks so much for starting our Mondays."
"I loved this class."
"Great energy. Uplifting. Helped me think on my toes and be better."
"Very well teachted [taught] class. Thank you."
September 2021 – Creative Writing with Friends of Guest House 
"I really enjoy this class. We have direction but freedom also. I love that I get told "great job." Alexa is great too!"
"Very interesting things that sparked something inside of me."
Yes, Alexa is great! Alexa's unique style of integrating her journalism background with creative writing brings a unique approach to this art. Her students learn the importance of detail, how to write an opposing point of view, and how to interview.
The "opposing point of view" is one of my favorite exercises and one we can all learn from. First, the Friends of Guest House residents write an opinion of something they feel strongly about, then share it aloud if they wish. Imagine their shock when they are then told to write an opposing point of view! Imagine the shock any of us would feel! It opens up all of our minds and helps to budge us all out of our comfort zone.
Many times they interview each other, learning the nuances between asking for detail and learning what are appropriate questions. The results can be hilarious when they share the stories they wrote about each other.
July 2021 – Visual arts with Friends of Guest House 
We get excited every time our Heard art teacher Sharmila Karamchandani is scheduled. Her absolute love of bringing art and creative expression to those that don't always have that opportunity, encouraging their talent, and nurturing their belief in themselves. We asked the Friends of Guest House residents what they thought, and here's what they said:
"I personally would like Sharmila to come back ASAP to teach us more creative ways to show how we feel and to express our emotions."
"I really enjoyed the class today."
"BEST CLASS OF THE WEEK!"
"I like that there's always a prompt and a main focus to express ourselves creatively and learn/reflect about ourselves."
"Very helpful and supportive."
June 2021 – Poetry with Friends of Guest House 
Whenever our poetry teacher Wendi Kaplan teaches a poetry class, magic happens. And why not? Wendi is actually a poetry therapist. And while our role is give our clients the safe space and freedom to create – and that's all – we also know how therapeutic self expression can be. So, every once in awhile we sneak a therapist onto our team. This poetry series was especially interesting because local poet 13 of Nazareth joined her for one of the classes and by all accounts he was amazing too! Here's what the Friends of Guest House women had to say about our poetry series. Sounds like a win!
"I enjoyed this class a lot. It's something different for me." 
"She was a wonderful teacher who inspired me to continue on with my personal writing. Thank you so much." 
"This class has made me feel more comfortable expressing myself & actually enjoy doing it." 
"Thank you for this class. I've been writing since I was young. It's therapy for me, a great release. I've had a block lately but being in your class broke the dam. I loved this class and like to attend more." 
"It was great. Spoken word is a wonderful medium to express yourself through." 
"13 was great! Glad I was here to hear him share." 
"I am naturally a writer and I believe it originates from being a silenced child w/bottled frustration & sadness. Writing was my only release." 
"I'm not really into poetry. I speak my mind verbally. I say what I have to say even if I say it to myself – silent or out loud."
April – June 2021 – Creative Writing with Computer CORE 
We started a creative writing class with Computer CORE last May, just as Zoom classes and the pandemic crazy was becoming our new reality, and we've never looked back! Our writing teacher Nina Sichel had been bugging me for awhile (OK, years) to place her with an immigrant population. Bilingual and having grown up in Venezuela, Nina had taught writing to several immigrant groups in Florida and other places. Computer CORE was the perfect match for her, and for their students as well. Just read their feedback after our 8-series class ended:
"This course was very interesting and productive, I learned in this course, how to express my feelings how to share my opinion I also learned how to start writing, I understand the important parts of writings. I personally suggested to increase the duration of the course."
"This is the most beautiful class l attended from long time and l feel lucky and heard very much, We are group of people with different backgrounds and cultures and faith put we connected together as human when we lessen to each other. I did discovered we are all colors put every color meant different to every one and we have to accept our different. We had questions what color you like to be l choose yellow color l would like to be sun lighting the darknesses and warm the cold days, The sunlight effect every thing with power and positivity and life and sometimes be wild, l like to be present and shine like a gold in the ground after you clean it from dirt and other particle shine , l well be like gold shine more with years. Im confidant , lm becoming what l would, l wish the happiness and successes and peace to all of you. Thank you."
"Never late to learn, this class encouraged me to learn and made more searches."
"From this class, I learned the similarities between the people  and trees, and I noticed things that I had not thought of before.. I learned that the person is a storehouse of experiences and memories governed by several things, including religion, customs and traditions, some of which are rooted in the ground as well as roots.. And when a person moves to a new environment Its roots adapt to the new environment and transmit all its legacies, affecting and being affected. The class was an excellent opportunity to express all that is on the heart and mind and a strengthening of self-confidence. I hope to continue it and move to higher levels in writing. Thankful and grateful for the distinguished professor and writer, Nina Sichel."
"I was able to streamline my thoughts better than before."
March 2021 – Creative Writing with Friends of Guest House
What did we love the most about our creative writing series at Friends of Guest House in March? We were on site! Yes, we are – finally – returning to onsite classes, in fits and starts. It all depends, of course, on if our artist feels safe being onsite, and only after s/he has received the second vaccination and then waited two more weeks. Our writing teacher, Solveig Eggerz, was as ready to be back on site as the Guest House women. Teaching onsite made it so much easier for the women to open up and share their stories and experiences, encourage each other, and practice listening, empathy, and other life skills. And here's what they had to say at the end of Solveig's four-part creative writing class:
Made you think deeply
Solveig was very helpful in channeling my inner creativity. She helped me capture my imagination and I would love to keep going with this class!
This class let our creative side shine, thank you to the teacher for bringing us new things to do every week (with a heart, smiley, and peace emoji)
January 2021  – Memoir Writing with Computer CORE
We admit, it's hard to get feedback when we are operating virtually. Rather than handing out our feedback form at the end of a series, we email the form to our program partner who emails it to the students, then we hope they complete the form and email it back to the program partner or us…you get the idea. So we are always thrilled when we get feedback now. Imagine how happy we were to receive this evaluation from the students of our partner Computer CORE. This nonprofit offers computer and technical training to (primarily) immigrant adults in northern Virginia. Our amazing writing teacher, Nina Sichel, has led a memoir writing class with these amazing students since May of 2020. Here's what they  told us:
In this English class, I was able to begin to write with more of my own words on tasks that the teacher told us to creatively describe what would have happened to us or what we can imagine in some circumstances of our life.
"I am [glad] to find chance like this course to help me enhance and improve my [English]. Actually my English is not perfect but I am trying to learn and hearing more with you. Thank you so much for considering me."
"The first thing Miss Nina's professional experience is remarkable. Second I learned how to express my feelings.  I would like to add more  exercises."
It was ok class
the class wasn't only creative but also a great great source of self enrichment.
This class was very interesting. It helps me to create my mind and keep improving myself. In the class I had a lot of chances to talk with the others.
In this class, students cross the barrier  fear of writing, expressing themselves, or speaking.
December 2020 – Visual Arts with Doorways
We're not therapists. But. We all know the power of art and creative expression, and it's pretty hard to have one without the other. Case in point: We held our first visual arts class with our new partner Doorways, an Arlington nonprofit that offers support, shelter, and services for survivors of domestic and sexual abuse. In Sharmila's "Four Cups of Life" virtual arts class, the participants were to let go of negative words swirling inside of them – to visually pour out what no longer serves them – and then pour in positive words in replacement. Such a powerful project! And here's what our Doorways guests said:
"Was great to be able to connect with people and do an activity/have an experience never done before through art"
"Created intentional reflection on the challenges experienced and needing to shift to a more positive perspective and began conversation on next steps towards change"
"Allowed for further conversation and reflection in individual therapy"
 What do you think? We think this is pretty powerful. Take a look at all of our clients' art work on our Gallery Page.
Do you remember that old joke about being a poet and you don't know it? Well, eight women from Friends of Guest House discovered their poetic side after taking a month-long class from the City of Alexandria's former poet laureate Wendi Kaplan. Did they love it? And her? You bet! Just look at these comments:
I really appreciate Ms. Wendi, she is a very kind, caring lady. I love the way she teaches the class and I've learned a lot from her. Expecially now to express myself through words. Ms. Wendi is great.
        I've never expressed myself through writing. Wendy was so kind and genuine that I would not just sit with a close mind. I very so much enjoyed this opportunity to learn a new way to express my              feelings and explore the world on paper. Thank you Wendy!
I loved this class and I always look forward to seeing Ms. Wendi, she is so kind and sweet. She has taught me to open us and express how I feel. I hope that she will continue to teach poetry. We all            love her. She has a beautiful soul. I love you Ms. Wendi.
I love this class! Always leave feeling so motivated and learn something new every day!!!
LOVE Mrs. Wendi! & class! & poetry!
I am becoming more articulate and put words together better.
I will miss this. I will miss you.
I see how important it is that I write my words and listen.
It is important that I am more open and speak more openly.
What does it mean to be a journalist? 15 residents of the City of Alexandria's Residential Treatment Center found out – and liked what they learned – after taking a three-part class from our writer Alexa Fleming.
I am an artist in the Northern Virginia area. Being and having a creative soul, I enjoyed this class. Journalism has always intrigued me. Thank for the pleasant surprise.
This class was great
Interesting class
Alexa is awesome!
Help to think outside the box and use creativity with my life experience
Very informational and refreshing
Nice
We can't even post all of the amazing feedback we received from our improvisation series at the Arlington County Detention Center's ACT (Addictions, Corrections, and Treatment) and re-entry units but we are posting our faves. Can you tell they LOVED it? And LEARNED important life skills?
      Being incarcerated I don't have much to be happy about however I could truly say this class is extremely enjoyable and has always put a smile on my face. P.S. Keely is Awesome!
       It boosted my self-confident, self-esteem & communication skills into another level.
I loved this class! I feel more creative and it is so liberating to get out of my comfort zone!
Thank you. You bring a lot of energy and smiles to the group…Thank you for your hard work and teachings. I have learned a lot and will practice in my life.
The instructor is very positively energized. I love everything about her.
Thank you for coming and showing us different things to use.
I thank you for coming. I am always up for improvement with life.
These comments from women at the Alexandria Detention Center about our visual arts class (November – December 2019) warm our hearts:
This class was so inspiring to me. I truly love being part of this class. It's now the end of the year, and we had an amazing 2019 class. Thank you very much for everything you did, and the skills you provided. Please don't stop coming. Can't wait to see you in the new year 2020!
Thank you for being part of my healing. Your investment is priceless. Please continue doing what you are truly saving lives. Thank you!
The class was very therapeutic and peaceful
Very inspirational, interesting, fun and very educational
Ms. Sharmila is a very nice lady. I loved being part of her class. She lets me express myself the way I know how
Comments from residents at Friend of Guest House about our etiquette, dance, and creative writing classes, October – December 2019:
Creative writing:
I never know how good or how much I enjoyed writing until this class
I thoroughly enjoyed this class and am thankful for the inspirational topics offered to me. Thank you! Jennifer Watson
Enjoy. Very cool
Thank you for all your time and support
Classes that are more helpful with everyday life
Dance: 
I [heart} dance class!
Dancing is not my thing
Etiquette:
Love, love
She is such a lady and it is important for some women to know how to be ladylike. Overall she is very encouraging.
I enjoy your class
I feel like some of the classes was useful to me in some ways. The job interview questions was probably the most helpful in my opinion
Comments from residents at the City of Alexandria Residential Treatment Center about our visual arts class, December 2019:
Thanks, great teacher 🙂
I love this class and my teacher!!!
This class is very good. You can really enjoy the drawing.
I enjoy Ms. Sharmila and more or less her creative projects. I believe it's a stress releaving class which surely helps my anxiety.
We held two She-Art classes in September 2019 – one with transitional housing residents at Community Lodgings, and one with the City of Alexandria LGBTQ Task Force. Here's what they said about our empowering event:
Thanks for the invite me and looking for attend on the next class
I loved it! I hope many more people take advantage of this great opportunity
Excellent! It helped me relax and focus on myself
Amazing! Loved it! You have to come to Impacto to facilitate this workshop in Spanglish
Great experience
I am not a creative person, but looking at the face and all that it does/doesn't represent made it easier to think good thoughts about my oldest daughter.
Comments from inmates at the Arlington County Detention Center about our creative writing class, August – October 2019:
Has opened my mind and taught me how to express myself with a pen and through a story! Thank  you
Solveig was a great instructor who took the classes very serously. She taught me useful things abut telling my own story as well as the role of narrative
 in lives. I really appreciate the time she took to do this for us. I feel heard.
I like this class. I would recommend this class to others. Thank yiou for yoru time Ms. Solveig.
And our visual arts class, December 2019:
I found the art instructor to [be] very expressive and professional. I would definitely recommend that the arts and crafts class continue weekly. It gave me a sense of  hope
Keep coming back please
Art klass be like that!
Art classes in New Year!
Keep coming back – art is a form of mediation for me and a part of my recovery. Thank you!
Art really helps express different feelings that sometimes is hard to just write out and explain. Thank you & keep coming if possible!
Art class is the life of CRU!!! Please come back before I leave 🙂
I like this class, hopefully we'll see you next year.
Dear Heard!! I just want to say that I am part of this art class, and it is very inspiring in all aspects. It allows me to be free, and express my true feelings by creating art. This class was a[n] inspiration to me starting a book of my life. My book tells my story like my art work. It tells where I [have] been, how I got there, and what came out of it, and it shows me how I got where I am at now. I want my book to help other people like [H]eard has help[ed] me. I look forward to my art classes with [H]eard, and I truly appreciate them showing me love, and allowing me to express  the inside of me. Thank you so much and keep the class going.
"I liked it. I never have time for this. It's important for self-care."
"I don't consider myself a creative person but look what I did!"
"This is a great 'caring for the caregiver' exercise."
I use improv all the time, especially with my boss. I need to say 'yes, and' more and not 'but.'
Dear Heard! Thank you for coming and bringing the light and joy in my life during th[ese] dark moments. You help me to remember who I really am. You help me to develop my feminine side. You help me to express my feelings. You make me create and smile 
 You help other to create and smile 
 Continue bringing love, joy and art in to this world!
Working with Heard and all its partner organizations has deepened my sense of purpose and has given me an inner perspective of my role in the universe on how I can serve and create an impact in the community through the arts.
Today had to be one of the best classes I ever had a Friends of Guest House. The ladies were so engaged, and I was able to move them to [improv life skills learning exercises] and sharing stories. It was really, really amazing. They were also using what they are learning in their daily life with positive results.
Using poetry we examine various issues such as identity, dreams, pain, abuse, hope and transformation. In reading poetry these folks see they are not alone and that they too can have a voice. And that their voice may help others. Creativity is an innate gift that we all have, we just need to tap into it. With creativity we are better able to have perspective, solve problems, develop awareness and compassion and to live life!
Initially, some of the CRU participants were skeptic about an improvisation class being in the line up of their re-entry program. That level of skepticism was fleeting. Buy in came quickly and even the most reserved participant was eager to participate.
The clients were able to work on communicative skill sets with Keely…voice projection, active listening and teamwork. Movement was also a big part of their improvisation classes. It was awesome to see the mind and body working together in unison.
Keely's enthusiasm, instructions and patience came through the screen. Her virtual presence made the classes flow really well.
I can say with assurance that the majority of the CRU participants have never thought about taking an improvisation class before. It was a welcomed new experience for them.
A pivotal  part of choosing the right reentry curriculum is based on assessing the inmate's needs with the primary objective of community readiness/post release preparation.
So often we tend to overlook the arts and categorize it as lofty or secondary to other subjects/classes that have a concentration on building employment skills, or substance abuse education.
However, over the past few years we've learned that the arts/creativity have a substantial and positive impact on the participants (self esteem, goal building and discovery of personal skill sets). Thank you Heard for your continued partnership.
Students love Nina's class and seem to leave feeling more confident in themselves and their individual stories and less burdened/embarrassed by their personal experiences. Thank you both for such life improving work. 
"Keely! We had so much fun. All of my colleagues truly enjoyed the experience.  One of them said, "it was more fun than I thought." 
I would love to do one more, maybe when we hit the 6th/7th week mark. 
I was pleased to see folks that I wasn't sure about getting really engaged."
NOTE: Heard offered its services, virtually, to all members of the Alexandria Council of Human Service Organizations as a way to support our sister nonprofit and government organizations during the coronavirus outbreak. Here, we offered a virtual improvisation class to the staff of The Center for Alexandria's Children.
From reading some of the stories, I was able to tell the participants put a great deal of effort into the material they wanted to present. Once the competition ended, I received several requests for the program to return.
A number of inmates expressed to me how being able to express their thoughts through this format, they were able to get things off their mind that had been bothering them since being incarcerated.  I also had inmates approach me, just recently, to ask if another writing program was coming back. I am just as excited to see these type of programs come to our facility as the inmates. Jane was a pleasure to work with and I look forward to her return.
We have been working with Heard since close to its inception, I believe. We were thrilled when Jane first approached us and offered to work with our residents (women coming out of jail and prison who live in our transitional housing program for six months). Heard's teachers are professional and from many disciplines but all share the same desire to make a difference in creative and impactful ways in the lives of others. The women in our program have come to look forward to any class that is offered by Heard and the level of instruction is superior!
The improv group is a huge hit and a huge success. The youth are engaged and creative. In regards to life skills—this is a hard question—but one thing I notice the most is that they let their guard down. By tapping into their creative side, more of their personality comes out in front of others. Their laughter is true. When the residents are asking me "When is improv coming back?" or "Are we having improv today?" the residents are interested.  In addition, when the residents remember a game/skill and use it on the unit or talk about a game (clap clap, bunny bunny, tick tock)—again, that is huge. The biggest compliment that I heard was from yesterday when one of the residents said, "I can't wait to do these games on family game night" and three residents told him that was a good idea. It was an absolute pleasure working with you and Keely!!
The HEARD program is a wonderful complement to TWB's [Together We Bake] curriculum of empowerment and life skills. Providing women an opportunity to share their stories through art is incredibly empowering. We have also had HEARD activities for our alumni team members and it has been a fun, bonding experience for all involved. The instructors are passionate about their craft and their compassion for women in need is inspiring. We are so grateful for HEARD!